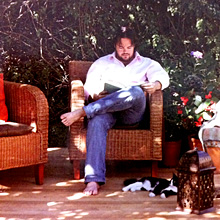 About Simon McCullagh
As a child, I enjoyed spending time with my father in his model aeroplane workshop. While he designed and built flying machines, I built castles, houses, towns and cities, peopling them with characters of my own imagining. I dreamed of one day creating the real thing.
I qualified as an architect from the University of Cape Town in the mid 1990's, and started my studio in 1997.
I believe that buildings are about "connecting", and am happiest when people come together to enjoy the spaces I have created. This probably explains why I love cooking and entertaining at home, and why I take such pleasure in spending regular Sunday lunches with my close friends who commissioned the house that started Simon McCullagh Architects.
I am a passionate traveller, always ready to hunt out and explore new places and revisit old ones, and to meet new friends and reconnect with old ones. I feel almost compelled to find the unspoilt magical places that, once discovered, are like hidden treasure. For me, these places invariably consist of garden and rural landscapes - peaceful and sublime counterpoints to parties and friends!
---
My Ethos
As an architect, the interaction between structure, light and the spaces these elements define is fundamental to the form and expression of a building. Equally important to me though, are the relationships I forge with our clients through the various stages of the architectural process.
People are what make buildings successful. This starts with the collaboration between architect and client, and progresses through interaction with other professionals and contractors to all end users of the building.
I am fascinated by the connection people have to the landscape they inhabit and the influence this has on their environment and work:
Patrick Heron, a Cornish artist, painted wonderfully colourful abstracts that unconsciously chart the land forms around his studio near Zennor. Vita Sackville-West, a Bloomsbury poet, created an intimate and sublime garden in the ruins of a castle and wrote a love poem about "the castle and the rose". Edwin Lutyens, an arts & crafts architect, absorbed the vernacular architectural traditions of his childhood landscape and re-interpreted them inventively for his Edwardian clients' country houses.
All have been fascinated and influenced by what Alexander Pope called the "Genius Loci" or "Spirit of Place". This is what I believe all good architecture should respond to, and where the design process should begin.
"... I am happiest when people come together to enjoy the spaces I have created..."
About Simon McCullagh Architects
Since opening our studio in 1997, we have completed numerous projects, ranging from schools and community-based buildings to hotels, guesthouses and private homes. Our specialty, however, remains in the design of original houses, which can be found throughout South Africa and also in Mauritius and England, where we collaborate with local architects.
Although a Cape Town based architects studio, we have much experience working with European clients building in South Africa, and have the expertise to lead them through local planning and building processes all the way to completion and handover.
Simon McCullagh Architects has become especially celebrated for its Cape barn and Cape vernacular style architecture in rural parts of the Cape, and has been involved in a number of country houses, farm projects and renovations to existing Cape Dutch heritage properties in the region.
As one of the founding architects of, and having designed 140 homes for, the award-winning Lake Michelle housing estate in Noordhoek, we have honed our skills working within strict design guidelines.
In contrast, our involvement building with NGO's and community-based organisations in Khayelitsha, keeps us grounded in the South African reality.
Simon McCullagh Architects is a long-established, small and dynamic studio that believes in providing an excellent standard of design and highly personlised service. We focus on economies of scale to streamline production, and deliver projects on time and within budget.
Simon McCullagh's SACAP registration number: 5982
SAIA registration number: PM3167